A Little About Shady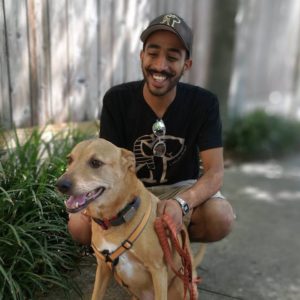 Hi, I am Shady Arafat, the founder and owner of this small company with dreams of growing to help dogs and their owners meet their daily needs and requests. I have always loved all animals and respected their feelings and needs, so I am here to enrich them when you are busy or you feel like your pet could use some extra love. Hospitality and customer service are two career backgrounds of mine that I apply to my daily activities towards all life forms, so if you have a little friend that is not a dog, I will do my best to meet their needs as if you, yourself were there. Join The Shady Waggers pack and watch us grow one wag at a time.
---
About the Company
With Shady Waggers, it's no longer hard to find the right trustworthy, reliable, and sincerely caring person to look after some of your most treasured family members. Whether it's just a dog walk, pet visit, or overnight sitting, we want your search to end here with our exclusive live-streaming services. We love all animals and believe they deserve the same hospitality you would expect for yourself. Let us take care of your furry comrade and you could watch them play and explore while you are away. Learn more about our services and  sign our new member forms to enjoy our services
---
Our Approach
Safety is absolutely necessary in our daily practices to ensure proper care of all clients and property. Shady Waggers is bonded and insured through Pet Care Insurance to cover your property and loved ones. I am proud to say we are the first dog walking business that offers Live Streamed services in Houston. This allows you to view the walks or visits live online, or review the footage later to better serve the pack.  Here at Shady Waggers we treat all creatures with respect, nurture, care, and love, no matter the number of legs they posses. Have any question? Contact Us and tell us what is on your mind.